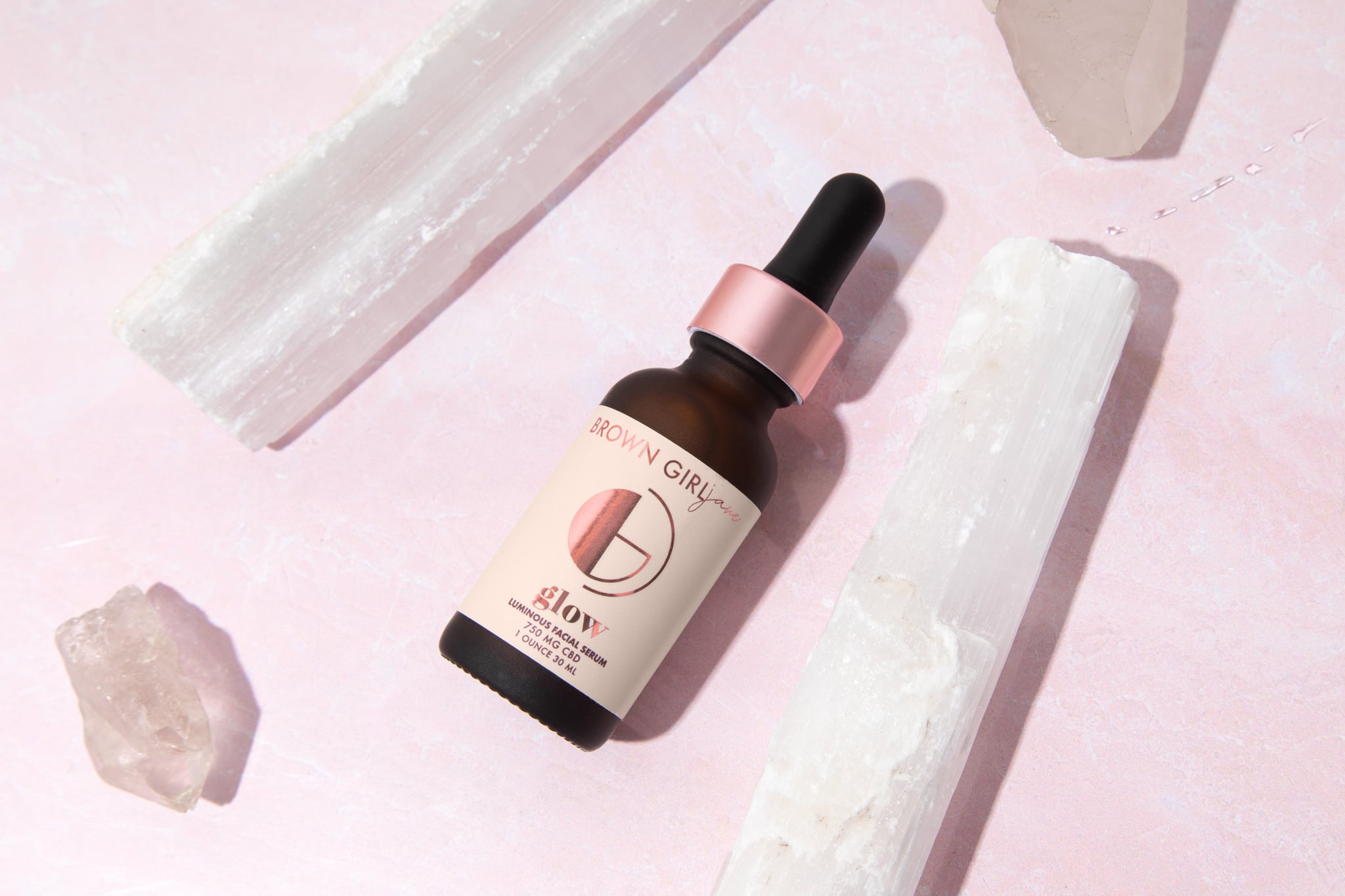 CBD was arguably one of the biggest wellness trends of 2019, and we don't foresee that changing anytime soon. It's fair to say that the industry is saturated, but Brown Girl Jane, a CBD company founded by three Black women — Malaika Jones Kebede, Nia Jones, and Tai Beauchamp — is in a lane of its own.
"I'm a bit of an unlikely wellness founder," Jones Kebede said. Her background is in finance, and she worked on Wall Street as a bond trader and investment banker. "I was always striving and trying to break glass ceilings," and after 15 years, Jones Kebede realized she had been neglecting her health. With a family, kids, and running a business, she said she was trying to define what wellness meant for her as she juggled everything when she came across CBD. Jones Kebede was seamlessly able to incorporate it into her everyday life and began sharing the benefits of it with Jones and Beauchamp. "We all were amazed at all it could do, but [we were] also struck by the absence of women like us, and women of color, in the marketplace," Jones Kebede said.
As Black women, they knew they weren't the target audience for other CBD brands that existed and that their needs were not being met by these brands. Because of this, they decided to change the narrative with the creation of Brown Girl Jane. The company was founded to support the everyday needs of women, "whether it's better sleep, more focus, overall balance, glowing skin, or vaginal health — all of these things that we all deal with but were not being spoken to in the wellness market as it stood," Jones Kebede explained.
Connecting with the Black and brown community, especially Black and brown women, is "very personal," since there isn't much visibility and representation of people from these communities in the CBD industry, Beauchamp said. "I think it's important to leverage that personal connection, because that's how we develop the affinity," she continued. "When you think about cannabis and CBD as an industry, with the overcriminalization of people of color in this space, there has been reticence about what this looked like and what this industry can, as an enterprise, afford us as a community," she said.
Brown Girl Jane isn't just about the benefits of the plant — it's about wholeness physically, mentally, and spiritually for Black and brown women, Jones said. The current collection consists of the Glow Facial Serum ($68), Balance Daily Drops ($68), Rest Daily Drops ($104), Yoni Oil ($58), and Heal Whipped Body Butter ($52) — there's something for every need and everyone.
"We have been really focusing on creating a wonderful sisterhood and community, which goes way beyond our collection," Jones Kebede said. As the Brown Girl Jane community grows, the three founders also have a bigger mission: to empower independent Black and brown founders and entrepreneurs in the beauty and wellness spaces. In partnership with SheaMoisture, the two brands have created #BrownGirlSwap, a $250,000 grant fund initiative helping POC founders amplify their brands and providing them with mentorship at all stages in addition to helping fund their ideas.
"Not only are we innovating, but we're also opening the door and paving the way for other brands or individuals that want to be in the CBD or the cannabis space."
"We always envisioned a program that would target key areas that have historically impaired Black businesses and take action to remove those roadblocks. Expanding this in such a significant way, through the support of SheaMoisture, is going to help countless female entrepreneurs and generations to come," Jones said in the press release. In addition to the fund, both brands will be hosting Black to Business, a free, virtual business summit in September, centering Black beauty and wellness creators and providing them with a space to learn from experts and to collaborate with one another.
"There's more room for more of us," Beauchamp emphasized. "Not only are we innovating, but we're also opening the door and paving the way for other brands or individuals that want to be in the CBD or the cannabis space," she continued. Whether people want to create the next cannabis brand or launch a digital wellness platform, this partnership is about reflectivity, Beauchamp said. "This is not about this one time moment in the movement of Black Lives Matter," Beauchamp said in response to the recent support for Black-owned businesses as the conversations around racial justice continues. "It's about sustainability and how we support growth year-over-year for more entreprenuers to come into this space."
CBD Oil, 9 Must-haves Before Embarking On Cannabinoid
Find out more